Medical device may have caused Vic cluster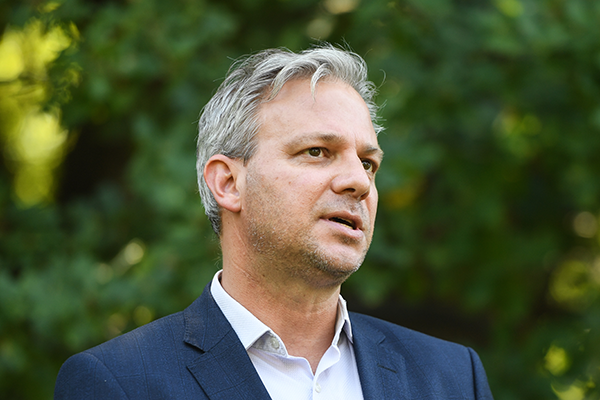 A medical device could be to blame for a COVID-19 outbreak at the Holiday Inn at Melbourne Airport, which now totals three cases.
The two latest cases confirmed on Tuesday are a returned traveller, who tested positive after completing 14 days quarantine at the hotel, and a food and beverage worker.
The cases were officially included in Wednesday's tally and come after an authorised officer at the hotel tested positive to the highly-infectious UK strain of the virus last week.
The outbreak has forced the closure of the hotel, while plans to increase the state's weekly cap on international arrivals from 1120 to 1310 from next week have been put on hold.
Victoria's Chief Health Officer Brett Sutton said authorities believe the three cases are linked to the use of a nebuliser.
"It vaporises medication or liquid into a very fine mist," he told reporters on Wednesday.
"If that's breathed in and someone is infectious or later tests positive, then that picks up the virus and then that mist can be suspended in the air with very fine aerosolised particles."
The nebuliser was used by a guest at the Holiday Inn who was taken to intensive care on Tuesday.
The guest and their two family members contracted the virus overseas.
Professor Sutton said it was possible everyone on that floor of the hotel has been exposed to the virus.
"The risk with an aerosolised virus is very substantial and so I think we should expect more cases," he said.
Commissioner for COVID-19 Quarantine Victoria Emma Cassar said the guest had not reported the nebuliser when arriving at the hotel.
Returned travellers who require the use of such devices are usually sent to a health hotel, she added.
"I'm sure they didn't believe they were doing the wrong thing, but we are taking extra steps to make sure those machines are not in the hotel," Premier Daniel Andrews said.
"This was a personal machine. It will be linked to this underlying condition, whether it's asthma or something like that."
Mr Andrews said the infected workers and guest's close contacts have been tested and a number of exposure sites have been listed on the Department of Health's website.
He described the emerging mutant strains of COVID-19 as a "very significant cause for concern".
"These hyper infectious strains are proving very difficult to contain and that's a real challenge," Mr Andrews said.
"We need to redouble our efforts to do more and to respond to that unique challenge."
About 135 staff at the hotel were stood down on Tuesday night and told to get tested and isolate at home for 14 days, bringing the total number of staff isolating to 220.
Forty-eight guests of the hotel considered primary close contacts will be transferred to the Pullman Melbourne.
Any guests who were due to leave quarantine in the next three days will be required to stay at least another three days.
"We understand this will be difficult news to receive and will do everything we can to ensure the health and wellbeing of these residents are supported during their new quarantine period," a COVID-19 Quarantine Victoria spokeswoman said.
"The transfer of the residents will be sequenced and coordinated, and there will be careful management of infection prevention and control measures."
In January, Brisbane's Hotel Grand Chancellor was evacuated after a cleaner tested positive to the UK strain. Returned travellers were moved to another hotel to restart their 14-day quarantine period.
There have been five cases of COVID-19 across three Victorian quarantine hotels within a week, with three confirmed to be the more infectious UK strain.
More than 950 hotel quarantine staff across the state are isolating.
© AAP 2021
Photo: Victorian Chief Health Officer Brett Sutton (AAP Image/Erik Anderson)
Tags: coronavirus